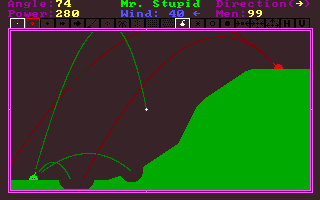 User Rating:
13
user ratings Based on
Page views: 70,058
Multiplayer:
Up to 10 players, Turn based shared keyboard competitive

DOWNLOAD THE GAME FREE
DOSBOX_TANKWARS.ZIP - 202k - Run
BOMB.EXE
to play
Downloading ...
Found your game? Great! Glad you found it! Please consider saying thanks by making a small donation to support DOSGames.com. There are also other ways you can help!
Need help running the game? Check our DOSBox Guide to run DOS games on modern computers.

Original archive (bomb32.zip, 206k) - The main download file above (DOSBOX_TANKWARS.ZIP) is pre-configured to work DOSBox. This file, bomb32.zip, is the original and may require installation / setup.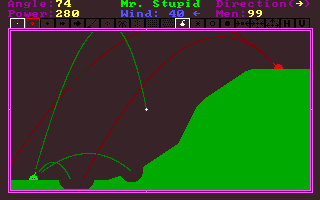 DOSGames.com Review:

Rating: 4.5
Tank Wars (also known as BOMB due to the name of the zip file and it's executable file) is, as you might expect, a tank battle game. It is quite similar to the better-known game
Scorched Earth
which was released around the same time in the early 90's. The goal of the game is to destroy the other tank(s) controlled by human players or computer opponents (of varying intelligence levels) by selecting the angle and velocity of your shots. The game generates terrain of different formations for each level and includes wind as well (both typical of games in this genre, even the famous QBasic Gorillas game) as well as a ton of different configurable options. There are also different weapons that you can purchase between rounds. Generally a fun game of this genre. I have heard that the computer opponents' AI is tuned a bit better than Scorched Earth, so if you're looking to play against your PC (up to 10 simultaneously) this may be your best choice.

Video Review
Video review of Tank Wars, courtesy of Ancient DOS Games
Play Tank Wars in Browser
Game will not be saved after closing your browser. Download and install the game if you want to save.
CTRL-F12 attempts to speed up game, CTRL-F11 attempts to slow it down.
Related / similar games:
If you enjoy Tank Wars, you might also enjoy playing these games:
Tank Wars, #666. Added to website: 2018-08-18. All copyrights, trademarks, etc, are property of their respective holders.