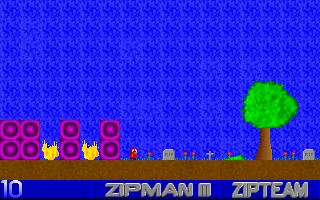 User Rating:
1
user rating Based on
Page views: 8,142
Multiplayer:
Single player

DOWNLOAD THE GAME FREE
zipman3.zip - 34k - Run
ZM3.EXE
to play
Downloading ...
Found your game? Great! Glad you found it! Please consider saying thanks by making a small donation to support DOSGames.com. There are also other ways you can help!
Need help running the game? Check our DOSBox Guide to run DOS games on modern computers.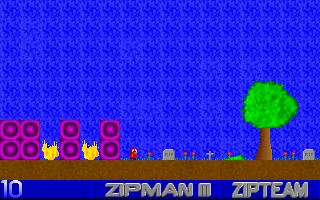 DOSGames.com Review:

Rating: 2.5
Zipman 3 (no idea if episodes 1-2 ever were released) has the germ of a good game (decent sprite-based graphics and presentation) but some technical problems hamper it a bit. Your tiny character controls a bit erratically, as does the camera which does not scroll smoothly as you move forward. You cannot attack so you must avoid your enemies. Those problems, combined with the "one hit game over" problem (as in start the whole GAME over, not just the level) cause this one to be an intriguing but unfulfilling game. (It seems like this was a precursor to Aro, a superior game by one of the same authors as this game.)
Play Zipman 3 in Browser
Game will not be saved after closing your browser. Download and install the game if you want to save.
CTRL-F12 attempts to speed up game, CTRL-F11 attempts to slow it down.
Related / similar games:
If you enjoy Zipman 3, you might also enjoy playing these games:
Zipman 3, #483. Added to website: 2018-02-19. All copyrights, trademarks, etc, are property of their respective holders.