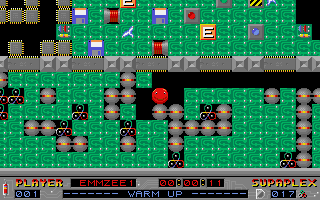 User Rating:
12
user ratings Based on
Page views: 23,016
Multiplayer:
Single player

DOWNLOAD THE GAME FREE
supaplex.zip - 287k - Run
SPFIX63.EXE
to play
Downloading ...
Found your game? Great! Glad you found it! Please consider saying thanks by making a small donation to support DOSGames.com. There are also other ways you can help!
Need help running the game? Check our DOSBox Guide to run DOS games on modern computers.

Download Android port (Google Store)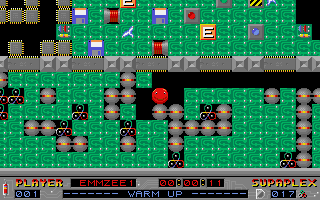 DOSGames.com Review:

Rating: 3.5
If you're looking for an involving puzzle game (which bears a strong reseblance to the classic game "Boulderdash"), Superplex might be what you're looking for. It recently has been updated to work on modern machines. It features distinctive graphics with a computer-ish theme, and a plehora of precarious puzzles (yay alliteration). The menus are a bit confusing at first but once you get into the game it's great. The version available for download here is a "speed fix" version which was released by Elmer Productions. You can also play a modernized version online at
supaplex.online
.

Video Review
Video review of Supaplex, courtesy of Ancient DOS Games
Play Supaplex in Browser
Game will not be saved after closing your browser. Download and install the game if you want to save.
CTRL-F12 attempts to speed up game, CTRL-F11 attempts to slow it down.
Related / similar games:
If you enjoy Supaplex, you might also enjoy playing these games:
Supaplex, #352. Added to website: 2018-01-20. All copyrights, trademarks, etc, are property of their respective holders.