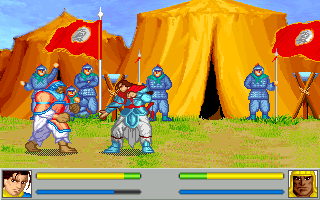 User Rating:
12
user ratings Based on
Page views: 24,109
Multiplayer:
Up to 2 players, Simultaneous shared keyboard competitive
For Kids:
No. Violence and/or sexual content

DOWNLOAD THE GAME FREE
Sango_Fighter.zip - 1,774k - Run
SANGO.EXE
to play
Downloading ...
Found your game? Great! Glad you found it! Please consider saying thanks by making a small donation to support DOSGames.com. There are also other ways you can help!
Need help running the game? Check our DOSBox Guide to run DOS games on modern computers.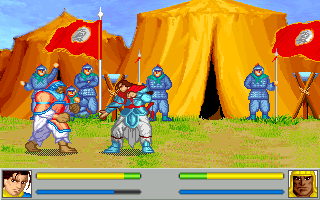 DOSGames.com Review:

Rating: 3
Sango Fighter is a game that looks better than it actually plays. Inspired by the extremely popular Street Fighter series of games (and the dozens of clones that SF2 inspired) Sango Fighter likewise features detailed and interesting looking characters fighting in one-on-one combat. Each character has unique special moves; however they are not easy to pull off. The shareware version allows you to select one of five fighters, and play in tournament, battle, and two player vs modes. As stated above, although this game looks great. The sounds and music are decent as well. However the gameplay is a little choppy, and it's not too easy to pull off the characters' special moves. That, combined with only having 5 playable characters, make it much less fun than SF2 which it's emulating. Definitely worth trying out though as an example of what was possible in the early 90's DOS environment compared to the arcades of the era. (Sango Fighter features English, Chinese, and Japanese language options.)

Video Review
Video review of Sango Fighter, courtesy of Ancient DOS Games
Play Sango Fighter in Browser
Game will not be saved after closing your browser. Download and install the game if you want to save.
CTRL-F12 attempts to speed up game, CTRL-F11 attempts to slow it down.
Related / similar games:
If you enjoy Sango Fighter, you might also enjoy playing these games:
Sango Fighter, #696. Added to website: 2018-09-23. All copyrights, trademarks, etc, are property of their respective holders.