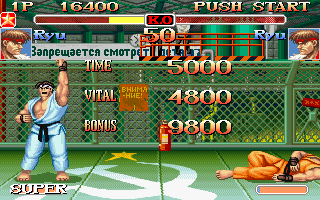 User Rating:
5118
user ratings Based on
Page views: 2,735,541
Multiplayer:
Single player
For Kids:
No. Violence and/or sexual content
DOSBox Cycles:
12000 (Approximate)

DOWNLOAD THE GAME FREE
DOSBOX_SSF2T.ZIP - 3,140k - Run
SSF2T.BAT
to play
Downloading ...
Found your game? Great! Glad you found it! Please consider saying thanks by making a small donation to support DOSGames.com. There are also other ways you can help!
Need help running the game? Check our DOSBox Guide to run DOS games on modern computers.

Original archive (ssf2tdem.zip, 3,135k) - The main download file above (DOSBOX_SSF2T.ZIP) is pre-configured to work DOSBox. This file, ssf2tdem.zip, is the original and may require installation / setup.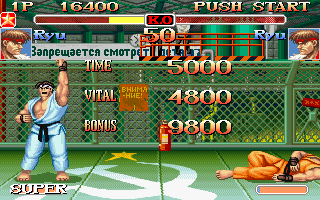 DOSGames.com Review:

Rating: 5
Street Fighter II first came to DOS PCs in 1992, with an absolutely terrible port of the original game Street Fighter II: The World Warrior. Thankfully, this version is way better than the original port, making this game quite close to the arcade and console versions of the game. If you've played SF2 before, you know what to expect: One-on-one fighting of the highest quality. Great graphics, sound effects, and music round out the package. Of course using the keyboard to perform special moves is mediocre at best so you'd probably want a joystick or arcade setup if you're interested in playing this for real. The demo version allows play as Ryu and Chun Li only, and while two-player shared keyboard play is available in the full version, the demo is one player only.
Instructions:
W A S D Move
T Y U Punch
G H J Kick
Play Super Street Fighter 2 Turbo in Browser
Game will not be saved after closing your browser. Download and install the game if you want to save.
CTRL-F12 attempts to speed up game, CTRL-F11 attempts to slow it down. See Instructions section above for help playing the game!
Related / similar games:
If you enjoy Super Street Fighter 2 Turbo, you might also enjoy playing these games:
Super Street Fighter II Turbo, #814. Added to website: 2019-01-05. All copyrights, trademarks, etc, are property of their respective holders.