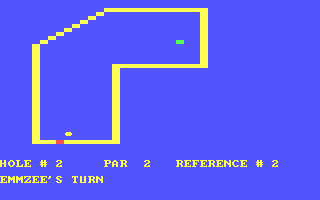 User Rating:
2
user ratings Based on
Page views: 8,463
Multiplayer:
Up to 9 players, Turn based shared keyboard competitive
DOSBox Cycles:
500 (Approximate)

DOWNLOAD THE GAME FREE
mgolf18.zip - 31k - Run
MGOLF.EXE
to play
Downloading ...
Found your game? Great! Glad you found it! Please consider saying thanks by making a small donation to support DOSGames.com. There are also other ways you can help!
Need help running the game? Check our DOSBox Guide to run DOS games on modern computers.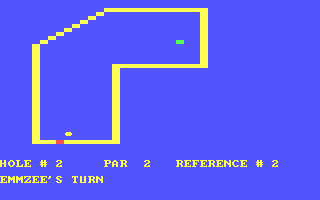 DOSGames.com Review:

Rating: 2
Poko Memorial Miniature Golf is a simple mini golf game. The graphics are very simple and so is the gameplay. First aim your shot (using the comma and period keys) then press a number from 1-9 to hit your shot (1 being weakest, 9 being strongest). That's it. Could be fun as a brief diversion, and once you figure out how to beat each hole you can get perfect scores each time, since there's no manual dexterity required!
Play Poko Memorial Miniature Golf in Browser
Game will not be saved after closing your browser. Download and install the game if you want to save.
CTRL-F12 attempts to speed up game, CTRL-F11 attempts to slow it down.
Related / similar games:
If you enjoy Poko Memorial Miniature Golf, you might also enjoy playing these games:
Poko Memorial Miniature Golf, #512. Added to website: 2018-02-28. All copyrights, trademarks, etc, are property of their respective holders.