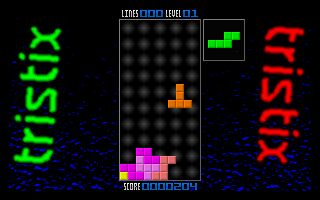 User Rating:
1
user rating Based on
Page views: 6,009
Multiplayer:
Up to 4 players, Simultaneous shared keyboard competitive
DOSBox Cycles:
6000 (Approximate)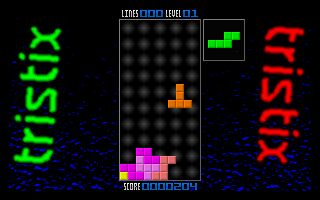 DOWNLOAD THE GAME FREE
tristixreg.zip - 316k - Run
TRISTIX.EXE
to play
Downloading ...
Found your game? Great! Glad you found it! Please consider saying thanks by making a small donation to support DOSGames.com. There are also other ways you can help!
Need help running the game? Check our DOSBox Guide to run DOS games on modern computers.

DOSGames.com Review:

Rating: 4
Tristix is a Tetris-inspired game that adds a couple of new elements to the typical Tetris formula:
* Random special blocks like a bomb or a "shooter" appeal when a line is cleared
* Blocks can be comprised of 1-5 squares (rather than 4 in the original Tetris)
* Up to four players can play simultaneously sharing the same keyboard (not sure how well that would work in practice ...)
It also looks and controls fairly competently, so if you're interested in a Tetris-like games with these options (and plenty more configurable within the game) give this a try.
Note that the default one-player (player 1) keys are not the arrows, see the in-game options to re-set them!
The author of this game
released the registered version for free
so the full version is now available here.
FILE_ID.DIZ:
Play Tristix in Browser
Game will not be saved after closing your browser. Download and install the game if you want to save.
CTRL-F12 attempts to speed up game, CTRL-F11 attempts to slow it down.
Related / similar games:
If you enjoy Tristix, you might also enjoy playing these games:
Tristix, #1230. Added to website: 2020-09-14. All copyrights, trademarks, etc, are property of their respective holders.