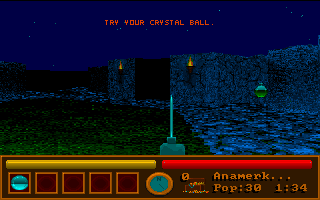 User Rating:
2
user ratings Based on
Page views: 7,188
Multiplayer:
Single player
DOSBox Cycles:
26000 (Approximate)

DOWNLOAD THE GAME FREE
DOSBOX_THANATOS.ZIP - 1,113k - Run
THAN.EXE
to play
Downloading ...
Found your game? Great! Glad you found it! Please consider saying thanks by making a small donation to support DOSGames.com. There are also other ways you can help!
Need help running the game? Check our DOSBox Guide to run DOS games on modern computers.

Original archive (THAN21.ZIP, 1,156k) - The main download link above works in DOSBox after unzipping; the file THAN21.ZIP is the original.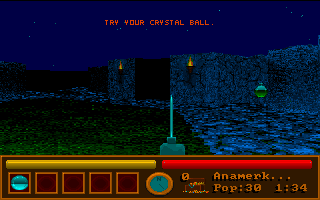 DOSGames.com Review:

Rating: 2
Thanatos 3D is an obscure FPS that was released in 1998. For reference, this is five years after
DOOM
, and two years after
Quake
. However the engine has more in common with Wolfenstein 3D or moreso perhaps with
Blake Stone
. The object of each mission is to collect five stones of power. There are a lot of missions (including many more in the registered version). The graphics are decent and appropriately creepy, but grainy, and the game seems to run slowly but that may be due to DOSBox. It seems to use its own proprietary engine. One nice feature is the automap which shows where you have been. Overall a strange oddity of a game that clearly look a lot of work to create, but was outclassed by many other games by the time of its release.
FILE_ID.DIZ:
Play Thanatos 3D in Browser
Game will not be saved after closing your browser. Download and install the game if you want to save.
CTRL-F12 attempts to speed up game, CTRL-F11 attempts to slow it down.
Related / similar games:
If you enjoy Thanatos 3D, you might also enjoy playing these games:
Thanatos 3D: Army of the Night, #899. Added to website: 2019-06-03. All copyrights, trademarks, etc, are property of their respective holders.