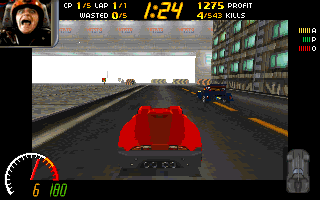 User Rating:
13
user ratings Based on
Page views: 36,196
Multiplayer:
Single player
For Kids:
No. Violence and/or sexual content

DOWNLOAD THE GAME FREE
DOSBOX_CARM.ZIP - 15,422k - Run
CARMDEMO.BAT
to play
Downloading ...
Found your game? Great! Glad you found it! Please consider saying thanks by making a small donation to support DOSGames.com. There are also other ways you can help!
Need help running the game? Check our DOSBox Guide to run DOS games on modern computers.

Download Android port (Google Store)
Download Apple iOS port (Apple Store)
Original archive (carmdemo.zip, 15,793k) - The main download file above (DOSBOX_CARM.ZIP) is pre-configured to work DOSBox. This file, carmdemo.zip, is the original and may require installation / setup.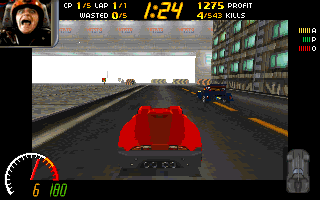 DOSGames.com Review:

Rating: 4
This demo version of the formerly popular car racing / gore game give you a taste of what the full game had to offer; and for many it will be enough! :) Unlike most racing games, this one actually rewards you for damaging the other cars (you get more money at the end of the race depending on how much damage you cause). You can also run over pedestrians. (No bonuses for that!) The games graphics were pretty good for their time, and the controls handle reasonably well. (This game is VIOLENT and INAPPROPRIATE for children so if you are under 18 years old please get your parent's permission before downloading.)

Video Review
Video review of Carmageddon, courtesy of Ancient DOS Games
Play Carmageddon in Browser
Game will not be saved after closing your browser. Download and install the game if you want to save.
CTRL-F12 attempts to speed up game, CTRL-F11 attempts to slow it down.
Related / similar games:
If you enjoy Carmageddon, you might also enjoy playing these games:
Carmageddon, #54. Added to website: 2017-11-06. All copyrights, trademarks, etc, are property of their respective holders.