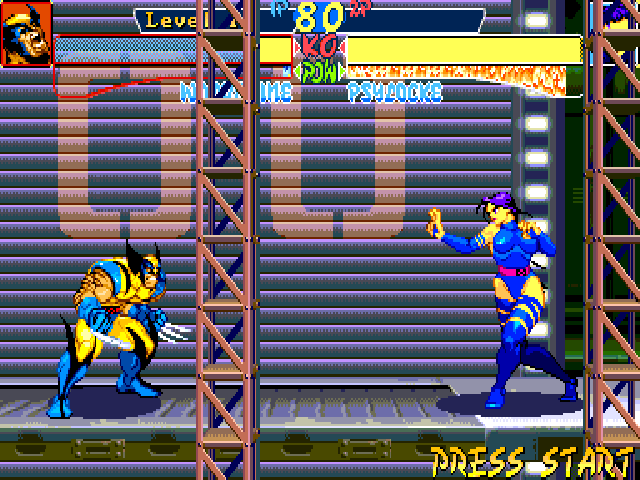 User Rating:
171
user ratings Based on
Page views: 257,010
Multiplayer:
Up to 2 players, Simultaneous shared keyboard competitive
For Kids:
No. Violence and/or sexual content

DOWNLOAD THE GAME FREE
DOSBOX_XMEN.ZIP - 5,745k - Run
XMEN.BAT
to play
Downloading ...
Found your game? Great! Glad you found it! Please consider saying thanks by making a small donation to support DOSGames.com. There are also other ways you can help!
Need help running the game? Check our DOSBox Guide to run DOS games on modern computers.

Original archive (xdemo.zip, 5,986k) - The main download file above (DOSBOX_XMEN.ZIP) is pre-configured to work DOSBox. This file, xdemo.zip, is the original and may require installation / setup.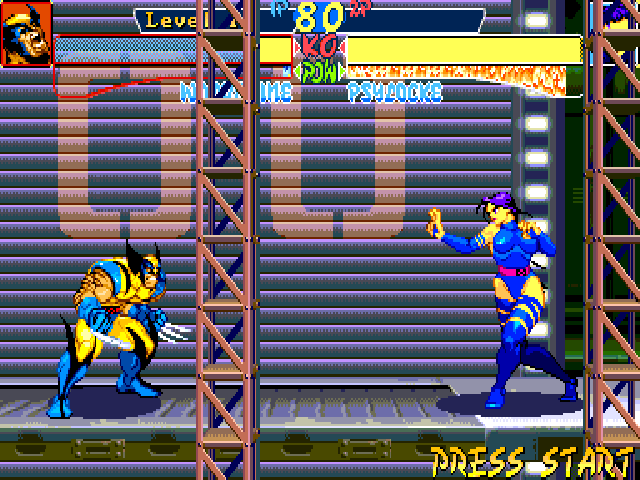 DOSGames.com Review:

Rating: 4.5
X-Men: Children of the Atom is a port of the one-on-one Street Fighter 2-style fighting game featuring characters from Marvel's X-Men comics. This game is no lame PC port: Its graphics, animations, sounds, and attention to detail are impressive! It runs in 640x480 mode, has two-player combat (shared keyboard) and all of the fighters that were included in the arcade game. Of course this is a demo version so it only includes Wolverine and Psylocke. Oh well, it gives you a decent taste of what the full game provides. Another game that runs impressively in DOS!
Instructions:
Player 1:
F1 Start
A Left
D Right
W Jump
S Crouch
T Y U Punch
G H J Kick

Player 2:
F2 Start
Left Left
Right Right
Up Jump
Down Crouch
Insert Home Page Up Punch
Delete End Page Down Kick
Play X-Men: Children of the Atom in Browser
Game will not be saved after closing your browser. Download and install the game if you want to save.
CTRL-F12 attempts to speed up game, CTRL-F11 attempts to slow it down. See Instructions section above for help playing the game!
Related / similar games:
If you enjoy X-Men: Children of the Atom, you might also enjoy playing these games:
X-Men: Children of the Atom, #1214. Added to website: 2020-09-02. All copyrights, trademarks, etc, are property of their respective holders.