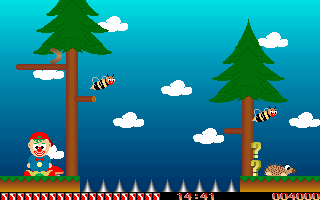 User Rating:
0
user ratings Based on
Page views: 455
Multiplayer:
Single player

DOWNLOAD THE GAME FREE
suprtrix.zip - 265k - Run
GAME.EXE
to play
Downloading ...
Found your game? Great! Glad you found it! Please consider saying thanks by making a small donation to support DOSGames.com. There are also other ways you can help!
Need help running the game? Check our DOSBox Guide to run DOS games on modern computers.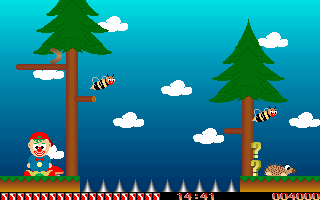 DOSGames.com Review:

Rating: 2
Super Trix is a promotional game for the Israeli newspaper Yedioth Ahronoth; it's Israeli name is Xסופר טריק according to the Mobygames entry. It was a promotional game in conjunction with Coca-Cola, and even if you can't read Hebrew, you'll immediately identify all of the Coca-Cola branding and signature cans placed all throughout the game. I don't know what most of the text says but it's not necessary to play it. The game itself is a platformer where you play a clown and jump around a stereotypical platforming game level, avoiding hazards (some of which appear randomly and seem almost unavoidable) and collect cola to power up your health. There are at least two levels, with end-of-stage bosses. Not a great game but definitely a unique and interesting one.
Play Super Trix in Browser
Game will not be saved after closing your browser. Download and install the game if you want to save.
CTRL-F12 attempts to speed up game, CTRL-F11 attempts to slow it down.
Related / similar games:
If you enjoy Super Trix, you might also enjoy playing these games:
Super Trix, #1857. Added to website: 2023-08-02. All copyrights, trademarks, etc, are property of their respective holders.