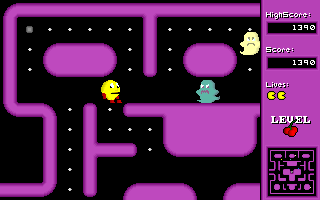 User Rating:
4
user ratings Based on
Page views: 8,756
Multiplayer:
Up to 2 players, Simultaneous shared keyboard or joystick competitive
DOSBox Cycles:
4000 (Approximate)

DOWNLOAD THE GAME FREE
DOSBOX_MUNCHMAN.ZIP - 183k - Run
GO.BAT
to play
Downloading ...
Found your game? Great! Glad you found it! Please consider saying thanks by making a small donation to support DOSGames.com. There are also other ways you can help!
Need help running the game? Check our DOSBox Guide to run DOS games on modern computers.

Original archive (freemunch.zip, 185k) - The main download file above (DOSBOX_MUNCHMAN.ZIP) is pre-configured to work DOSBox. This file, freemunch.zip, is the original and may require installation / setup.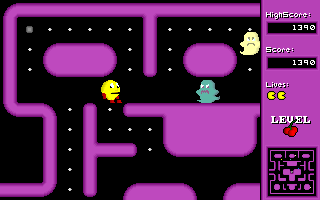 DOSGames.com Review:

Rating: 2.5
Munch Man is a Pac-Man clone that does some things right and others wrong. The basic gameplay is the same, gobble the dots and avoid the ghosts; grab a power pellet and turn the tables on them. The main playing area is zoomed in so you can't see the entire board. There is also a mini map in the bottom corner, but it's difficult to look at it and also pay attention to the main area. There are different level layouts (eight in total) and color schemes as well. However the gameplay itself feels a little ... jerky? Hard to describe. There are a bunch of options though, including having player 2 play as one of the ghosts?! Which doesn't work too well since player 2 can't see where they are if they're off the screen. Also the game requires a batch file to run (GO.BAT) which seems to not be set up properly and spits out errors even though the game seems to run properly. I'm also not sure exactly how fast this is supposed to run, so the cycles may be set incorrectly for DOSBox. In any case, this is the full version, released for free by the game's authors.
Play Munch Man in Browser
Game will not be saved after closing your browser. Download and install the game if you want to save.
CTRL-F12 attempts to speed up game, CTRL-F11 attempts to slow it down.
Related / similar games:
If you enjoy Munch Man, you might also enjoy playing these games:
Munch Man, #1235. Added to website: 2020-09-16. All copyrights, trademarks, etc, are property of their respective holders.