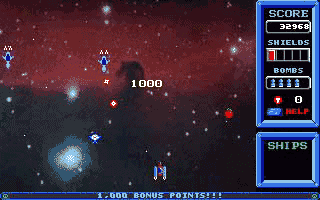 User Rating:
0
user ratings Based on
Page views: 599
Multiplayer:
Single player

DOWNLOAD THE GAME
$kilo.zip - 497k
Downloading ...
Found your game? Great! Glad you found it! Please consider saying thanks by making a small donation to support DOSGames.com. There are also other ways you can help!
Need help running the game? Check our DOSBox Guide to run DOS games on modern computers.
- Run
KILO.BAT
to start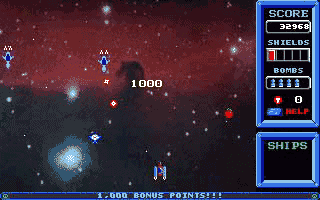 DOSGames.com Review:

Rating: 3
If you're a fan of Galaxian (or its sequel Galaga) you may want to check out Kiloblaster. This simple shooter seems heavily influenced by those classic arcade games. The aim here is to, of course, shoot down all of the baddies. The gameplay is fairly simplistic, and it is pretty easy to beat, but it could be enjoyable for fans of the shooting genre. The graphics are a bit odd, since it looks like 256 colors are used for the backgrounds, but some of the sprites and scorebox use a more limited EGA-ish color palette, perhaps because the game also works in EGA mode.

Video Review
Video review of Kiloblaster, courtesy of Ancient DOS Games
File_info.diz:
Related / similar games:
If you enjoy Kiloblaster, you might also enjoy playing these games:
Play Kiloblaster in Browser
Games may take awhile to load. CTRL-F12 attempts to speed up game, CTRL-F11 attempts to slow it down.