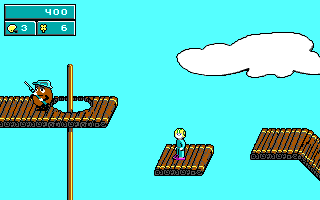 User Rating:
0
user ratings Based on
Page views: 816
Multiplayer:
Single player

DOWNLOAD THE GAME
keendreams.zip - 371k
Downloading ...
Found your game? Great! Glad you found it! Please consider saying thanks by making a small donation to support DOSGames.com. There are also other ways you can help!
Need help running the game? Check our DOSBox Guide to run DOS games on modern computers.
- Run
START.EXE
to start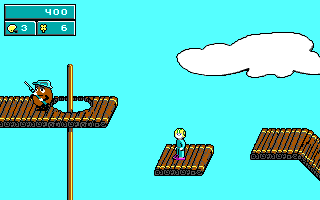 DOSGames.com Review:

Rating: 4
Keen Dreams is sometimes referred to as Keen 3.5, because it was made between the
first trilogy of Keen games
and
Commander Keen 4: Secret of the Oracle
. Originally published by Softdisk as a commercially released game, at some point they also made a shareware version. This game plays in some ways like an early test game for what would become the next series of Keen games. Unlike the other games where you have a blaster and pogo stick, here you collect stones (?) which you throw at various food-related enemies in order to stun them. The gameplay is quite similar to the later games, and the graphics are similar too (although more simplistic). Most disturbing perhaps is the fact that there is no music (at least in the shareware release) even though there is a menu option for it! (Apparently it was removed in order to fit the game onto a 360k floppy disk!) Still enjoyable to play however.
File_info.diz:
Related / similar games:
If you enjoy Keen Dreams, you might also enjoy playing these games:
Play Keen Dreams in Browser
Games may take awhile to load. CTRL-F12 attempts to speed up game, CTRL-F11 attempts to slow it down.