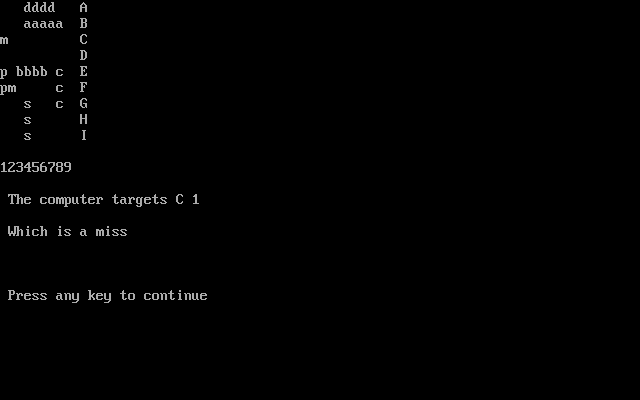 User Rating:
0
user ratings Based on
Page views: 432
Multiplayer:
Single player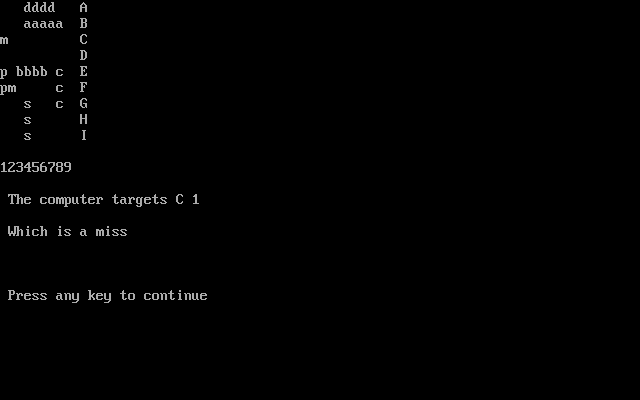 DOWNLOAD THE GAME FREE
dosbshp3.zip - 129k - Run
BSHIP.EXE
to play
Downloading ...
Found your game? Great! Glad you found it! Please consider saying thanks by making a small donation to support DOSGames.com. There are also other ways you can help!
Need help running the game? Check our DOSBox Guide to run DOS games on modern computers.

DOSGames.com Review: Rating: 2
Battle Ship is a textmode version of the classic Battleship board game. It includes SoundBlaster sound effects using a trick I used in some of my own QuickBasic game experiments back in the day: Shelling to a DOS command, in this case using the PLANY utility ("play any") to play WAV files. The game itself is not too remarkable, you choose your ship positions (or let the computer randomly choose them for you) then take turns with the computer firing by entering the coordinates. Pretty basic gameplay but it does work well enough. Notable is that the game should work with DOS screen reader programs; I am not familiar with how these work but the author mentions it.
FILE_ID.DIZ:
Play Battle Ship in Browser
Game will not be saved after closing your browser. Download and install the game if you want to save.
CTRL-F12 attempts to speed up game, CTRL-F11 attempts to slow it down.
Related / similar games:
If you enjoy Battle Ship, you might also enjoy playing these games:
Battle Ship, #1877. Added to website: 2023-08-17. All copyrights, trademarks, etc, are property of their respective holders.